---
"How To" Beekeeping
Tuesday, October 15th, 6:30pm


Presentation With Ken and Kathy Kuhn
Ken and Kathy Kuhn of Candia's own Jacks Honey are presenting a free class on Beekeeping!
This in-depth lecture will include all you need to know to begin your own hive and harvest your own honey.
From equipment, hive types, bee anatomy, pollen & pollination to bee schools and local organizations, you will learn it all… and so much more!
Free and open to the public.
Sponsored by the AG Commission.
---
Beatles Night
Saturday, October 19th from 7-9pm


This shall mark the thirteenth year of the Beatles night at the Smyth Public Library! The evening will include rare films, music, trivia, and door prizes. Every year features a new program so come join the music and fun!
---
NH History Program on Daniel Webster: "The God-Like Daniel"
Wednesday, October 16th at 6:30pm

Daniel Webster was born in 1782 on a small farm in the New Hampshire wilderness. Despite beginning life in poverty, he became a legend in New England and across America, both in his own lifetime and for a century after his death. He was Congressman, Senator, and Secretary of State under three Presidents. He is thought to have been one of the most outstanding lawyers ever, as well as the greatest public speaker in American history. Eighty five years after his death, he would be the hero in The Devil and Daniel Webster, the most popular short story ever written in America. In the words of the storyteller, "He was the biggest man in the country. He never got to be President, but he was the biggest man. There were thousands that trusted in him right next to God Almighty."
Join us here at the library for this newly offered program where Michael Faiella, a retired history teacher, shall unveil Daniel Webster: the local boy, the man, and the legend!
---
Mount Everest Program with Joe Pratt
Thursday, October 24th at 7pm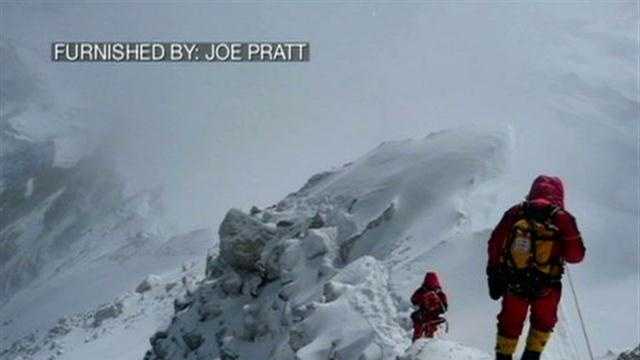 In 2012 only one amateur climber from America was able to summit Mount Everest from the north side. The climb was dedicated to the worldwide eradication of polio. Joe Pratt, through photos and video will tell his story of joining a Russian expedition, five weeks of training and acclimatizing on the mountain and the final 24 hour push to the summit in conditions that took the lives of six climbers that night. His talk will cover the history of polio in America and the current status of the effort to eradicate the disease worldwide. The presentation will be one hour with questions following.
Join us here at the library for this newly offered program!
Sponsored by The Raymond Area Rotary Club
---
Simplifying Medicare
Tuesday, October 29th at 6pm


Turning 65 or retiring in 6 months or a year? Get yourself educated, receive some guidance navigating through all the Medicare information, come understand the Medicare basic Parts A, B, C and D. Hosted by Donna Wilton, learn what Original Medicare covers and how supplement insurance works with your Medicare so you can make the best decisions for your health care needs in retirement. Know the importance of enrollment periods and making sure you avoid lifetime penalties.
Bring your questions to this informal educational session and simplify your understanding of Medicare.
Please stop by the front desk to sign up, or RSVP at (603)-553-0913.
---
Harnessing History: On the Trail of New Hampshire's State Dog, the Chinook
Wednesday, November 13th at 6pm


Join us for this newly offered program!! In partnership With the New Hampshire Humanities, come learn how dog sledding developed in New Hampshire and how the Chinook played a major role in this story. Explaining how man and his relationship with dogs won out over machines on several famous polar expeditions, Bob Cottrell covers the history of Arthur Walden and his Chinooks, the State Dog of New Hampshire. Cottrell will be accompanied by his appropriately named Chinook, Tug.
---
"How To" soup with Dietician Marilyn Mills and Hannafords Market.
Thursday November 14th at 6 PM


Come learn deliciously ways to warm your way into winter with these satisfying comfort meals.
---
"How To" Painting class with Currier Museum of Art instructor and Candia native, Holly Rousseau
Tuesday, November 19 at 6 pm


In this beginner level class, students will begin by exploring autumn landscapes from the Currier Museum of Art permanent collection. Led by an Art Center instructor, students will then create their own autumnal scenes in watercolor paints and oil pastels.
---
Holiday Events:
Saturday, December 14, 12-2 pm,
Holiday Gingerbread House making party! All goodies provided, just sign up and bring your smiles!
Thursday, December 12, 6-7 pm,
Story Time with Santa and Mrs. Claus! Come in your PJs for a special visit from the North Pole and hear stories and share snacks and go home with a small gift.
Saturday, December 21, 11-2 pm,
Fifth Annual Christmas Cookie Swap! Bake five dozen homemade cookies and drop off Friday, December 20, between 5-8 pm and pick up anytime between 11-2 pm on Saturday your new tray with a new selection of goodies to take home and share with your family and friends. Sponsored by the Friends of Smyth Public Library.
---
Ongoing Programs:
Thursday, October 31th at 11am- Thursday Morning Group

Reading group featuring Master Thieves by Stephen Kurkjian. Pick up your copy at the front desk!
In a secret meeting in 1981, a low-level Boston thief gave career gangster Ralph Rossetti the tip of a lifetime: the Isabella Stewart Gardner Museum was a big score waiting to happen. Though its collections included priceless artworks by Rembrandt, Vermeer, Degas, and others, its security was cheap, mismanaged, and out of date. And now, it seemed, the whole Boston criminal underworld knew it.
Nearly a decade passed before the Museum museum was finally hit. But when it finally happened, the theft quickly became one of the most infamous art heists in history: thirteen works of art valued at up to 500 million, by some of the most famous artists in the world, were taken. The Boston FBI took control of the investigation, but twenty-five years later the case is still unsolved and the artwork is still missing.
---
Wednesday, October 30th at 7pm- Wednesday Night Group
Reading group featuring One Good Mama Bone by Bren McClain. This book will be available for pick-up at the library.
Set in early 1950s rural South Carolina, One Good Mama Bone chronicles Sarah Creamer's quest to find her "mama bone," after she is left to care for a boy who is not her own but instead is the product of an affair between her husband and her best friend and neighbor, a woman she calls "Sister." When her husband drinks himself to death, Sarah, a dirt-poor homemaker with no family to rely on and the note on the farm long past due, must find a way for her and young Emerson Bridge to survive. But the more daunting obstacle is Sarah's fear that her mother's words, seared in her memory since she first heard them at the age of six, were a prophesy, "You ain't got you one good mama bone in you, girl."
Feel free to join these groups for many interesting discussions!
Please see Reading Groups Page for a description of this month's book.
Stitching Up The World-knitting Group With Lisa Cote held on every third Wednesday of each month from 6-8 PM on 9/18, 10/16, 11/20, & 12/18.

Drop in Coloring night for all ages, all supplies provided, every Friday 6-7 pm. (packets also available for use in library anytime we are open)

SEEKING WRITERS of all levels and abilities! We have a wonderful writing group at Smyth Public Library on the second and fourth Friday of each month from 6:30 to 7:30 pm. Please let us know if you would like to be a part and sign up or just come by and start writing. Writers group meets 2nd and 4th Friday of each month at 6:30 pm
See the "children," "teen," and "music series" tabs for more great events!